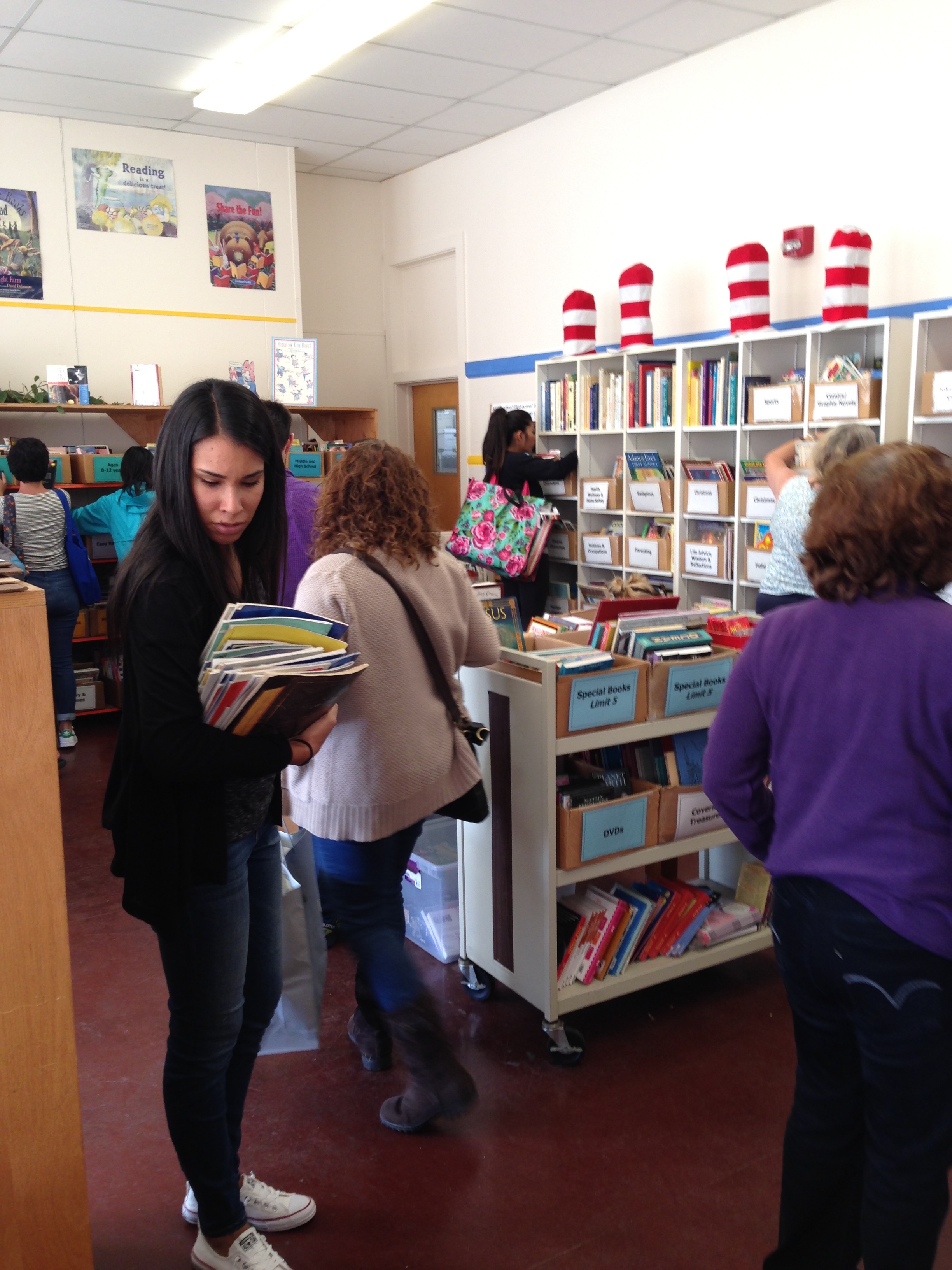 Dear Children's Book Project,
We love all the books you gave us. Everyone enjoys the books in our class. Thank you for all the books!
We always need high interest, new or gently used, recent books for children of all ages, from infants through teens. 
In greatest demand are books in good condition that make children feel valued, especially: 
books featuring diverse characters (all ages)
board books
early readers
elementary chapter books
books in Spanish or Chinese (all ages)
graphic novels
popular series for 8-12 year olds

 

 
Due to limited demand and storage space at our book site, we don't accept:  
dirty, dusty, wet, chewed, ripped, bent, folded, written in, moldering, or mildewed books
nonfiction over ten years old

 

obsolete or vintage books
library discards

textbooks and curriculum materials

encyclopedias

audio cassettes and VHS tapes

religious books

 

 
Teachers and other staff who serve economically disadvantaged children come in and choose the free books they want to bring back from our book site. Keeping this in mind as you gather books for donation, please understand that if a book is old, broken, dirty, or otherwise unlikely to be selected from our site, it must still be counted and sorted by our hard-working volunteers. Help us use our limited resources efficiently and recycle those books we can't use at home. Thank you for your understanding! 
Visit our Amazon Wishlist for book donation ideas—and join AmazonSmile to donate books directly AND give .5% of your purchase to the Children's Book Project!   
Book Site
Drop off any number of books at our book site inside the Francis Scott Key Annex during open hours:    
1360 43rd Avenue, room 105
San Francisco   
Monday 3:30 – 6 pm
Wednesday 10 am – 12 pm
Thursday 3:30 – 6 pm
First Saturday of each month 10 am – 1 pm

The entrance to the parking area is at Playland at 43rd Avenue. Please drive slowly and watch for children at play!  
Children under 18 are not allowed at the book site. 
Book Bags
Drop off your donation of 50 or fewer books at any of our blue Book Bag collection stand locations: 
SAN FRANCISCO
Alexander Book Company 50 Second Street
Books Inc 3515 California Street
Books Inc 2251 Chestnut Street
Charlie's Corner 4102 24th Street
Folio Books 3957 24th Street
Mission Neighborhood Health Center 240 Shotwell Street
Noe Valley Pediatrics 3700 24th Street
Progressive Grounds 400 Cortland Avenue
Umpqua Bank  415 De Haro Street  
PENINSULA
Bagel Street Cafe 254 Redwood Shores Parkway, Redwood City
Mollieland at Mollie Stone's, 49 42nd Avenue, San Mateo   
EAST BAY
Tay Tah Cafe 1182 Solano Ave, Albany
   
Pick Up
Contact us to arrange pick up for donations of 100+ books within San Francisco or for larger donations in the greater Bay Area.

Mail/Ship 
Ship books to our mailing address:   
Children's Book Project
3433 21st Street
San Francisco CA 94110