Children's Book Project gives books to children who need them for equity in literacy, learning, and life. 
Our goal is to create a more socially just world by providing books for free to children from under-resourced neighborhoods. Literacy attainment is directly tied to academic achievement and lifetime outcomes, yet children in economically disadvantaged communities do not have the same access to books as their more affluent peers. Children's Book Project is committed to closing the opportunity gap and lifting up our community by raising readers and ultimately paving the way for lifelong learning and literacy.
We give away more than 12,000 books a month to children who need them, and our dedicated volunteers are key to fulfilling our mission. Volunteers help us process even more donated books than we give away by counting, sorting, stocking, weeding, categorizing, leveling, writing book reviews, delivering books where they're needed, and running children's book drives. 
We couldn't give away so many books, in limited open hours, for so many children without volunteer help. We're grateful to all who contribute their joy, time, talent, and sense of purpose to our shared goal of raising readers.
Visit our new Book Reviews page to learn about some of the exciting and inclusive children's books that come through the Book Bank for children and families who need them. So far, we've selected titles celebrating Black History and Women's History Months. We've made it easy to buy more copies for our clients who serve children at shelters, Title 1 schools, subsidized daycares and after school programs, shelters, public health clinics and public housing — just click the link at the bottom of each review! Come back often; reviews are updated bimonthly.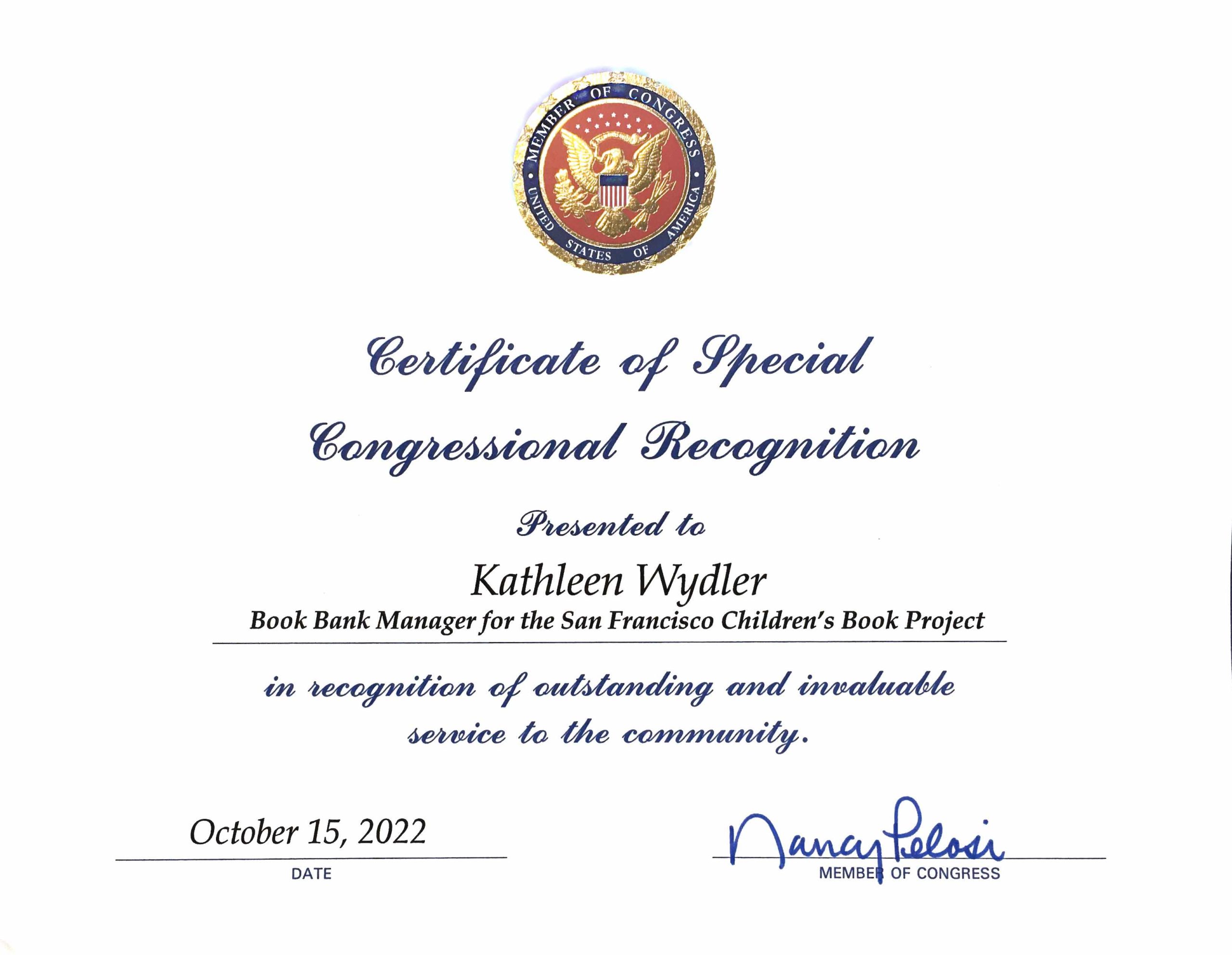 We're honored that former Speaker Nancy Pelosi recently honored our Book Bank Manager Kathleen Wydler and the Children's Book Project with a Certificate of Special Congressional Recognition "of outstanding and invaluable service to the community." 
 We're grateful to literacy advocate Emily Grimmius for spotlighting our passionate commitment to our mission to give free books to children who need them. We give away more than 12,000 children's books a month for our most vulnerable kids throughout Northern and Central California — and beyond — and we couldn't do it without supporters like you!
Our Book Bank is open by appointment to Give Books, Get Books, and Volunteer!
Click the links to schedule online.
CLOSED FOR SUMMER BREAK
June 23 – July 7, 2023
Know before you go: Properly fitted masks required inside the Book Bank. 
So far in 2023:
59,299
BOOKS GIVEN AWAY
48,540
BOOKS RECEIVED
460
VOLUNTEER HOURS