BOOK SITE CLOSED to the public as San Francisco stays at home; we're still working to ensure reading-rich environments for all children. Updates below.
The Children's Book Project gives books to children who need them for equity in literacy, learning, and life. 
We aim to create a more socially just world by providing books for free to under-resourced children. Literacy attainment is directly tied to academic achievement and lifetime outcomes, yet children in economically disadvantaged communities do not have the same access to books as their more affluent peers. The Children's Book Project is committed to closing the opportunity gap and lifting up our community by raising readers.
Todd Parr's children's books and ToddWorld television show are great for communicating complex emotions with young children—and his books are always on our wishlist. The coronavirus pandemic has brought a spike in interest in Todd's books, while at the same time so many families we serve can't afford books of their own. Little, Brown Books for Young Readers and Hachette Book Group want to address that need with a matching program called "Reading with Todd Parr Makes Us Feel Good." Throughout the month of June, they will match every copy of any Todd Parr book bought via local, independent bookstores—like our longtime supporter Folio Books—with a copy donated to the Children's Book Project! Order copies of Todd's books today for the children in your world, and we'll give the matching donated copies to children who need more books that make them feel seen, accepted, and valued.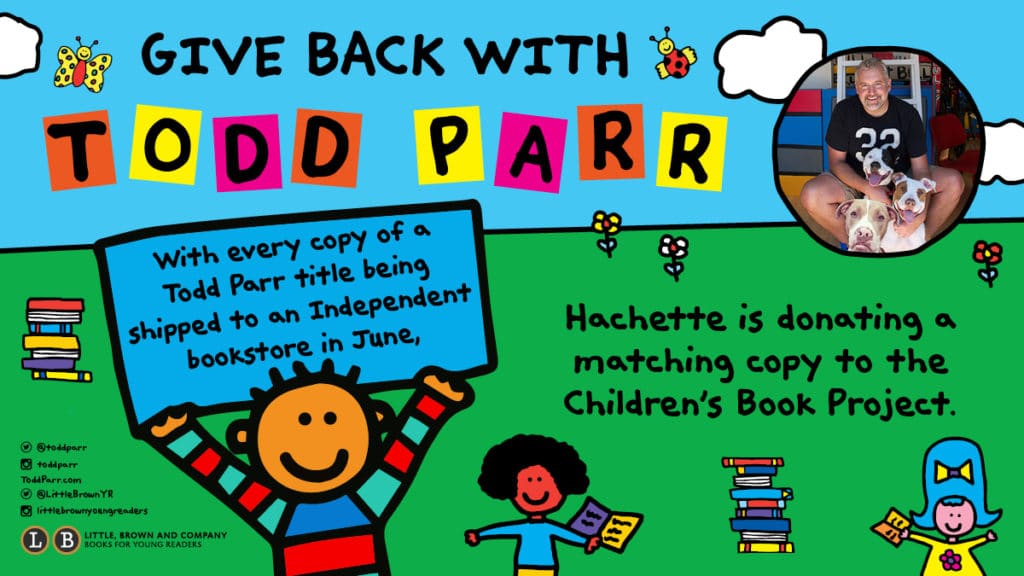 Share your love of books and support equity in literacy by sharing our GoFundMe Campaign and donating the cost of your favorite children's book or whatever you can afford for our COVID-19 Rapid Response — every dollar helps.
Since the citywide shelter-in-place order on March 16th, the Children's Book Project has continued to support the needs of our most vulnerable families – even when we had to close our own doors. Here's how we're responding in this moment:
Within days we changed our operations model from client self-selection to staff delivery. As of May 1st, two part-time staff sorted and delivered 12,000 free books to 36 Bay Area sites serving our most vulnerable children.
We distributed books at the meal distribution centers and emergency childcare facilities to make sure children have safe and easy access to books.
We're delivering books to public housing, public health clinics, school laptop distribution sites, homeless shelters, and organizations serving families.
We've partnered with the San Francisco School District to include thousands of picture books in distance learning packets for pre K–2nd graders.
As we deliver thousands of books where they're needed and can be safely distributed, we're rapidly depleting our inventory. Our usual sources for donated books are also hard hit: businesses that host donation bins are shuttered, book drives canceled, and individual donations deferred. We urgently need to raise funds to buy books, especially picture books, early readers, and books in Spanish.
Together, let us continue to raise readers!
Since San Francisco's shelter-in-place order was announced on March 16, the Children's Book Project has acted quickly to support the needs of our most vulnerable families. Within 3 days, we distributed over 3,000 free books to children at SF emergency childcare centers for front line responders and SFUSD food distribution centers. Here's one example of how we're responding in this moment:
After picking up food, families were encouraged to pick up a book or two offered by the Children's Book Project to make sure the students' minds were fed too. ABC7News
Open hours are suspended to help limit the spread of COVID. Clients may email us to request books for curbside pick up by appointment. We're now accepting donations of only the most in-demand children's books, also by appointment. Thank you for helping us meet critical needs in challenging times!
Our future relies on the education of our children. Thank you, Children's Book Project, for uniting local community leaders that are committed to promoting literacy amongst our youth.
Dear Children's Book Project,
Keep going strong. I believe in you! Thank you for the books!
The Children's Book Project is essential to my reading program, allowing me to establish a great set of leveled books for small group reading instruction AND to present two books per week to my students to add to their home libraries—over 400 books distributed this year! I have Kindergarten students reading at a second grade level and recent immigrants reading at grade level. The Children's Book Project is an important part of Bay Area education. Thank you!