GIVING TUESDAY 

$5,000 DONOR MATCH
Every dollar you give today goes twice as far to give free books to children who need them! Donate now!
The Children's Book Project gives books to children who need them for equity in literacy, learning, and life. 
We aim to create a more socially just world by providing books for free to under-resourced children. Literacy attainment is directly tied to academic achievement and lifetime outcomes, yet children in economically disadvantaged communities do not have the same access to books as their more affluent peers. The Children's Book Project is committed to closing the opportunity gap and lifting up our community by raising readers.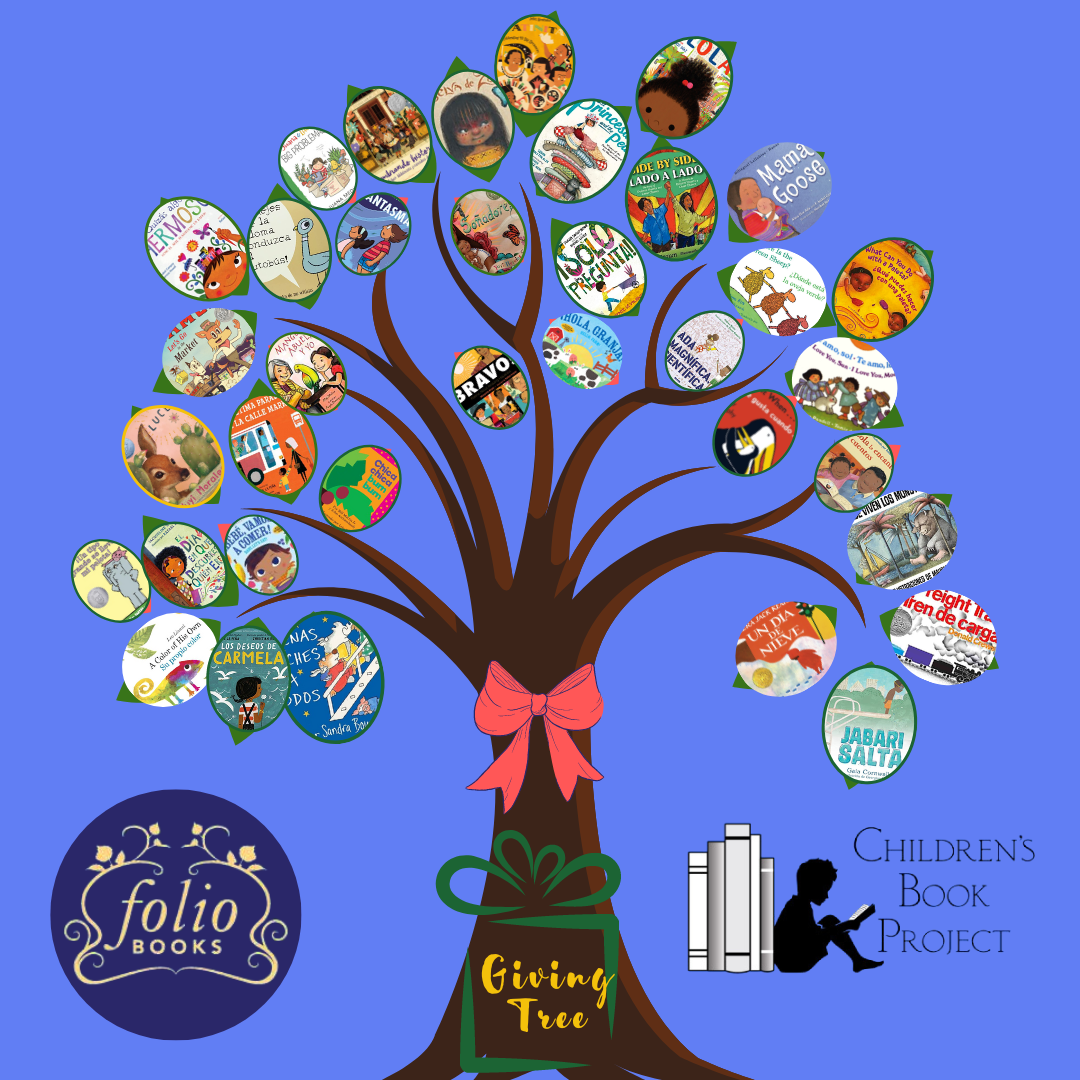 Our longtime supporter and local independent bookseller Folio Books is helping us give even more beautiful, free books to kids who need them most — for keeps! 
GIVING TUESDAY: On November 29, 15% of proceeds from all purchases made in store will benefit Children's Book Project. Purchases made at foliosf.com November 24 – 30 using code CBP2022 will be included in the Giving Tuesday fundraiser!
GIVING TREE: From November 29 through the holiday season, visit Folio Books in person or at foliosf.com to purchase our curated wishlist books for Children's Book Project.
Thanks to our supporters, we're one of the first winners of a 2022 Top-Rated Award from GreatNonprofits.org!
Click here to read inspiring stories about us and add your own! 
 3 millionth book given to Mercedes with Latino Task Force by founder Vicki Pollack with her daughter Melanie Mickelson
Author Gennifer Choldenko read Dad and the Dinosaur aloud and then visited our Book Bank
Auhor and illustrator Nidhi Chanani visits the Book Bank after reading aloud What Will My Story Be?
Author Diana Kapp in the Book Bank with her book Girls Who Green the World
Families decorate their own book bags
Author Hope Lim reads aloud
Over 50 volunteers made our 30th a success!
Author JaNay Brown-Wood signs her books for young fans
Sponsor Parsons Corporation hosts a prize wheel
Our Book Bank team celebrates Children's Book Project Day
Author Hope Lim visits the Book Bank after reading aloud
Volunteers give away nearly 800 books
Author Nina LaCour reads aloud from Mama and Mommy and Me in the Middle
Reps from Latino Task Force and Homeless Prenatal Program join Vicki, Melanie, and Risa to honor Children's Book Project Day
Ivan with Latino Task Force describes the positive impact the Children's Book Project's has on our community
30th Anniversary Committee celebrate at our community event
Young readers get up close with Nina LaCour
30th Committee Chairs Kathy Angus and Melanie Mickelson celebrate with Founder Vicki Pollack
Juanita of Homeless Prenatal Program shares how crucial the Children's Book Project is to the vulnerable families she serves
Author Meg Fleming signs her books for a young reader
Nidhi Chanani illustrates kids' ideas
Kids pick out new books of their own — for keeps!
Thanks to Our Sponsors & Supporters!
At our wonderful, free 30th Anniversary Community Celebration on October 15th —declared Children's Book Project Day by San Francisco Mayor London Breed — our founder Vicki Pollack gave our 3 millionth children's book to community partner Latino Task Force.
Nearly 500 local residents, including 300 children, joined us for festivities outside our Book Bank that featured enthralling presentations by Bay Area children's book authors Hope Lim, Diana Kapp, Gennifer Choldenko, Nina LaCour, Nidhi Chanani, JaNay Brown-Wood, and Meg Fleming.
Community partners Vision To Learn provided free vision screenings, eye exams, and glasses for underserved children, and 18 Reasons encouraged kids to taste and describe fresh fruits and vegetables.
More than 50 volunteers, including moms and daughters from National Charity League Crystal Springs, offered delicious food, engaging family activities, and gave away nearly 800 beautiful, free books!
For 30 years, we've given away free books for hundreds of thousands of low-income children in 20 California counties, from Alameda to Yolo and beyond. Some of these kids, now grown, are among the educators, social workers, nurses, doctors, and staff of organizations who visit our Book Bank to get books for children who need more books of their own. 
Today, we celebrate all of you — our supporters, clients, volunteers, donors, friends, and families — who help us continue  to raise readers by giving free books to children who need them!
Our Book Bank is open by appointment to Give Books, Get Books, and Volunteer! 
Click the links to schedule online.

CLOSED for Winter Break 12/16/2022 – 1/1/2023.
Know before you go: Properly fitted N95 masks required inside the Book Bank. We appreciate your understanding and look forward to serving you safely.
Thank you for helping us meet critical needs in challenging times.
304,634
BOOKS GIVEN AWAY
since the start of the pandemic
135,064
BOOKS RECEIVED
so far in 2022
727
VOLUNTEER HOURS
so far in 2022