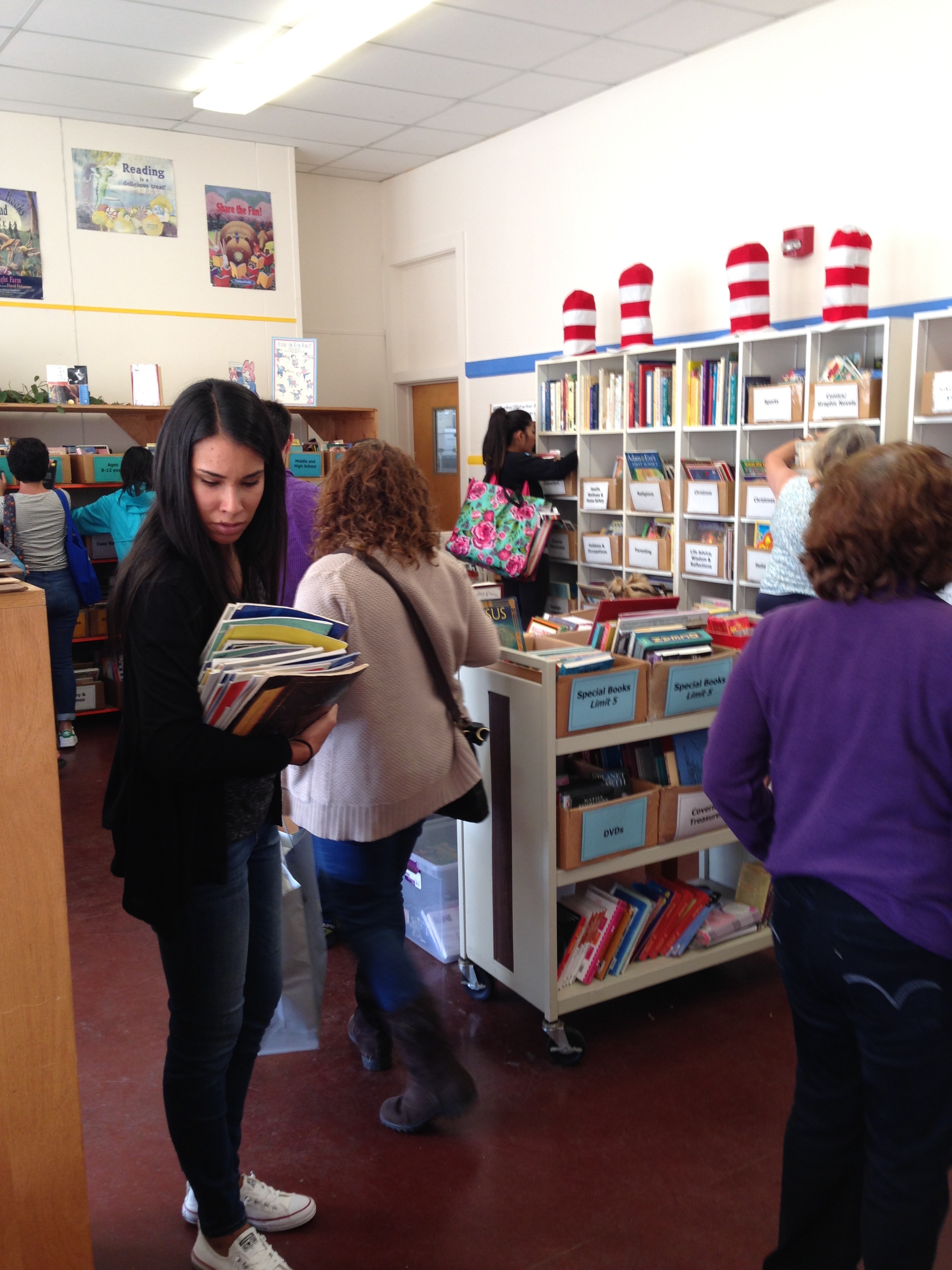 We always need new and gently used books for children of all ages, from infants through teens.
We especially need:
board books
early readers
elementary chapter books
books in Spanish or Chinese
graphic novels
popular series for 8-12 year olds
We do not accept:
textbooks and teacher guides
encyclopedias
audio cassettes and VHS tapes
library discards
nonfiction over ten years old
If a book is too well-loved, broken, missing pages, mildewed, or otherwise unlikely to be selected from our site, please recycle it at home.
Book Site
Drop off any number of books at our book site during open hours:
1360 43rd Avenue, room 105
San Francisco
Monday 3:30 – 6 pm
Wednesday 10 am – 12 pm
Thursday 3:30 – 6 pm
First Saturday of each month 10 am – 1 pm
The entrance to the parking area is at Playland at 43rd Avenue. Please drive slowly and watch for children at play!
Children under 18 are not allowed at the book site.
Book Bags
Drop off your donation of 50 or fewer books at any of our blue Book Bag collection stand locations:
SAN FRANCISCO
Alexander Book Company 50 Second Street
Ambassador Toys 186 West Portal Avenue
Books Inc 3515 California Street
Books Inc 2251 Chestnut Street
Booksmith 1644 Haight Street
Charlie's Corner 4102 24th Street
Folio Books 3957 24th Street
Mission Neighborhood Health Center 240 Shotwell Street  NEW!
Noe Valley Pediatrics 3700 24th Street
Overland One Hair Studio 3915 Noriega Street  NEW!
Progressive Grounds 400 Cortland Avenue
Rainbow Grocery 1745 Folsom Street
Sparky's Fun and Joy 115 Clement Street
Umpqua Bank  415 De Haro Street  NEW!
PENINSULA
Bagel Street Cafe 254 Redwood Shores Parkway, Redwood City
Mollieland at Mollie Stone's, 49 42nd Avenue, San Mateo
EAST BAY
Hayward Area Historical Society 22380 Foothill Boulevard, Hayward  NEW!
Tay Tah Cafe 1182 Solano Ave, Albany  NEW!
Pick Up
Contact us to arrange pick up for donations of 100+ books within San Francisco or for larger donations in the greater Bay Area.
Ship
Ship books to our mailing address:
3433 21st Street
San Francisco CA 94110